Some Chelsea stars were pictured back in action at Cobham on Monday as they await their teammates' return from international duty ahead of the Premier League match against Newcastle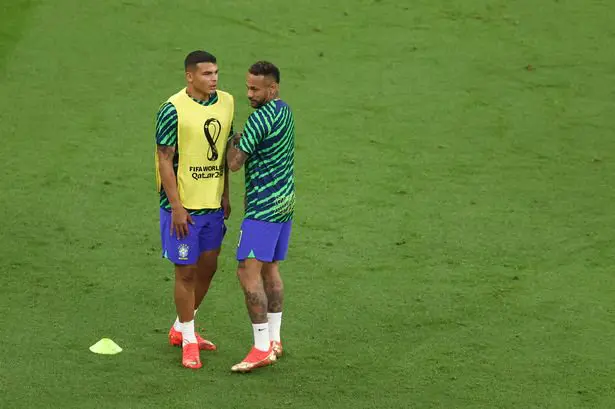 Chelsea have entered the second week of the international break and soon will find their stars returning ahead of the game with Newcastle. Attention can now turn to the Premier League clash in greater totality, though some of Chelsea's stars have spent plenty of time at Cobham already.
A sign of that intention is present with Thiago Silva's return to training, with the 39-year-old pictured completing work in Chelsea's gym facilities appearing on Monday. The former PSG and AC Milan star had spent a stint back in his homeland during the first week of the Premier League pause. Silva looked to spend time with family and friends and enjoyed what looked to be an intimate show from Batuk D Gueto. Ever the professional, the Brazilian also appeared to spend plenty of time in the gym while out of the country.
His latest personal update has seen him send a message to Neymar. The veteran posted a picture of himself with his injured countryman and friends with a message. It read: "Fear not, for I am with you; do not be dismayed, for I am your God; I will strengthen you, help you and uphold you with my strong hand. Isaiah 41:10."
Neymar recently underwent surgery to repair anterior cruciate ligament and meniscus injuries in his left knee.
While Silva's time abroad came towards its finale over the weekend, other Chelsea stars ventured away. Trevoh Chalobah, who has been continuing his recovery at Cobham and spent some time in the gym with his teammates, was joined on a trip away by Marcus Bettinelli over the past weekend.
Bettinelli, who has not made a squad all season due to injury, was featured in the footage released from Chelsea's Cobham training base this week. He travelled to the United States in his time off, however. The Chelsea pair were guests in the Redbull Racing garage in Las Vegas during a controversial Formula 1 Grand Prix weekend.
Mauricio Pochettino also enjoyed some time away from Chelsea over the past weekend. The 51-year-old head coach headed to Tarragona in Spain and visited a regular haunt in the School House restaurant with Jesus Perez. The Blues also appeared to spend some time with his son's dog during the period too. Maurizio Pochettino plays for Gimnàstic Tarragona.
The Blues will be waiting with bated breath to discover to what extent Christopher Nkunku and Romeo Lavia can participate in training this week as the squad fills out too. The duo have been absent from official club photographs and videos thus far during the international break.
Nkunku has teased his return and celebrated his birthday already after Pochettino explained his situation ahead of the draw with Manchester City. It appears to be a case of wait and see still.
Pochettino noted ahead of the break: "We had some conversation and he [Nkunku] said to me, 'Coach, I want to be ready for after international break, Newcastle'. I asked him yesterday and he said 'hmmm', and I said 'you are liar'. 'No, no I am ready'.
"It is close and he is doing really well. We are so happy with him, the way he is recovering, he is very professional. Romeo Lavia is also close. They trained today on the pitch. Hope that next week will be involved with the team and see after. Day by day see when it is possible to play with the team."