The art of a great heel character can lead to countless positives coming from such a character. Good vs evil is always the trend of wrestling, even with shades of grey becoming more important in each era. Heels playing the bad guys make it easier for fans to rally behind the babyfaces and get invested into the storylines.
Babyfaces like Hulk Hogan, Steve Austin and John Cena needed strong heels to continue their hot runs as the faces of WWE. However, the conversation should sometimes be flipped towards great heels and the faces that worked with them. Many of the most iconic heels in wrestling history will be viewed in depth to see which babyfaces were their best rivals.
10 Hulk Hogan: Sting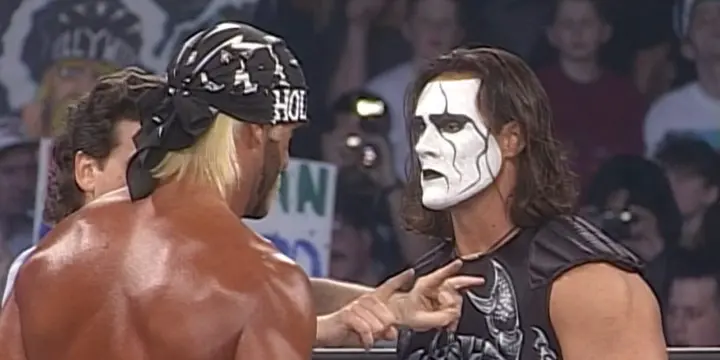 Many fans often snub Hulk Hogan from the all-time great heel list since he was even more successful as a babyface. However, it was the heel turn forming the New World Order that led to Hogan changing course for the first time since he got over as a beloved face in WWE.
The changes made in WCW allowed Hogan to go all out with the dastardly character that led the hostile takeover. Sting was the best rival of the heel Hollywood Hogan character representing WCW. Even though their matches featured bad creative, fans loved this feud as the most financially successful in WCW history.
9 Brock Lesnar: Kurt Angle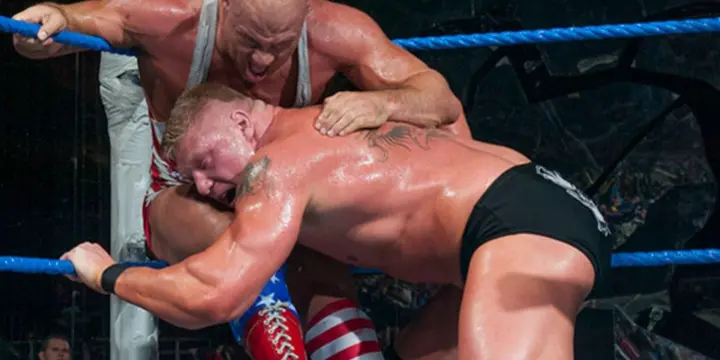 The history of Brock Lesnar sees him mostly thriving as a heel more than a babyface. Brock's first run saw him going back to heel after a failed face stint. Lesnar's past decade and change in his second WWE run led to him being the most dominant heel on the roster in between a few short face runs.
The best overall babyface rival of Brock has to be Kurt Angle from the first stint in the early 2000s. Other options like The Undertaker and Roman Reigns had too many hit or miss moments in their feuds. Lesnar and Angle had arguably the best overall feud of the Ruthless Aggression Era.
8 Paul Heyman: CM Punk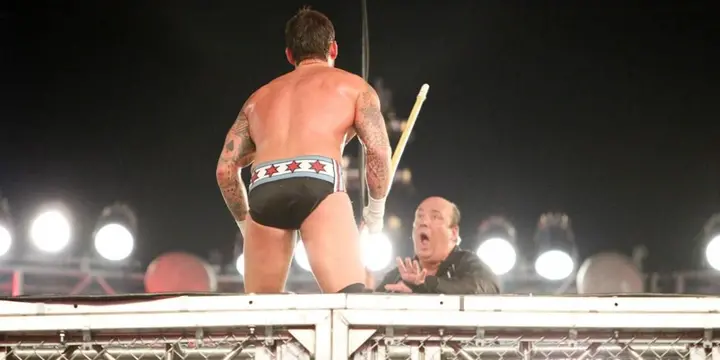 The managing career of Paul Heyman makes him an all-time great heel character for success in various ways. Brock Lesnar, Roman Reigns and CM Punk alone is a hit list of all-time icons that Heyman became a strong part of helping.
However. Heyman's best feud came against Punk since they had a lot of time to tell that story. Fans reacted with disdain when Heyman cost Punk a Money in the Bank ladder match to betray him. Punk and Heyman had a fun feud that peaked with an incredible Punk vs Brock match.
7 Randy Orton: Mick Foley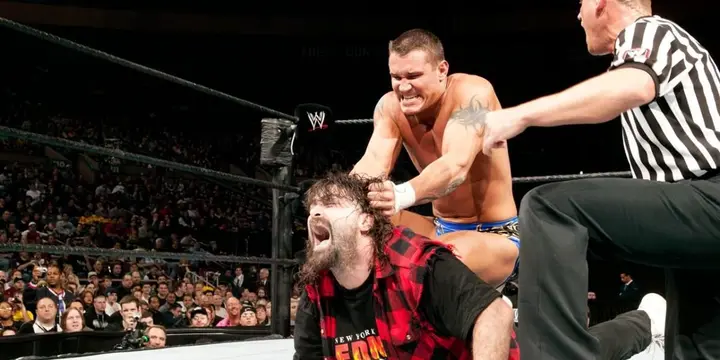 Randy Orton has been around WWE for over two decades now to hit the legend status of his career as we inch closer towards the end. WWE loved the potential of Orton and clearly made it certain that he'd be one of the top stars of the promotion for years to come.
Mick Foley came out of retirement to work a program with Orton that helped him grow from a rising star to someone that felt like a top star. Orton disrespecting Foley led to his heel heat growing in the early stages of what became an all-time great evil heel character.
6 Randy Savage: Ricky Steamboat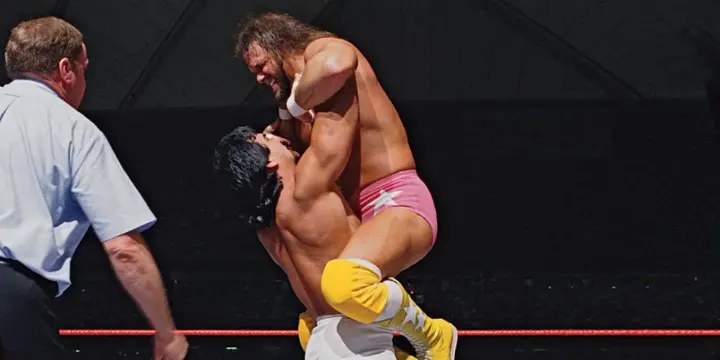 WWE witnessed Randy Savage becoming one of the faces of the company when the Golden Era started. Savage is a beloved name and always had crowd support for his babyface runs, but he was even more successful and effective as a heel character.
Ricky Steamboat was the purest babyface character to develop a strong program against Savage for the Intercontinental Championship. Some would argue Hulk Hogan was Savage's better feud, but his heel character became credible after showing his personality against Steamboat.
5 Triple H: The Rock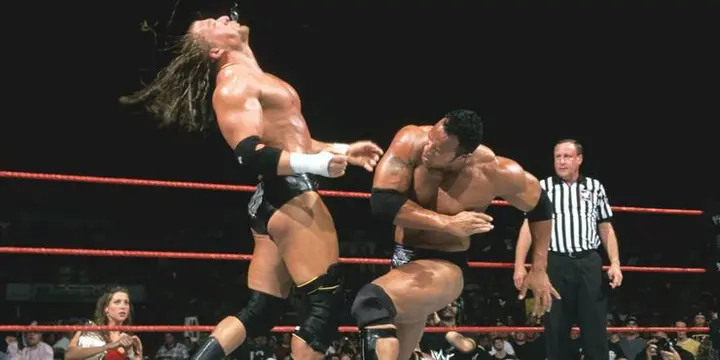 Triple H became an all-time great heel moving up the ladder from a strong mid-card run to a dominant main event presence. Almost every major babyface to work in WWE during Triple H's tenure as an on-screen talent worked with Triple H at some point.
Names like Mick Foley, Steve Austin, Shawn Michaels and Daniel Bryan have fair arguments for being Triple H's best rival. However, it was The Rock that had the best overall rivalry with Triple H throughout their careers. Their feud evolved from newcomers battling to D-Generation X vs Nation of Domination to an iconic main event program.
4 Ric Flair: Sting
WCW witnessed Ric Flair and Sting becoming the top stars in company history due to their epic rivalry. Flair thrived as the most outstanding heel character for many years. WCW tried to create new babyface stars by having them work programs with Flair to give them credibility.
No one benefited from this idea more than Sting when working against Flair. Their chemistry was magical and led to Sting becoming a true top star from it. WCW went back to the feud many times, and they are even working together in AEW now after Tony Khan brought in Flair to honor Stinger.
3 Chris Jericho: Shawn Michaels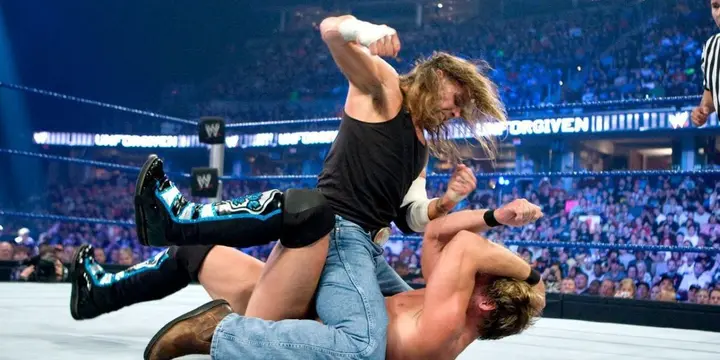 The character skills of Chris Jericho always worked better as a heel since it gave him the chance to experiment more. Jericho thrived both as the charismatic comedic heel and the serious sadistic heel depending on the character or story context.
Shawn Michaels ended up being the best rival of Jericho when the latter turned heel to his serious character in 2008. Every match, segment and story advancement saw the fans caring more about this rivalry. Jericho also had great feuds against Rey Mysterio, Triple H and many others, but the Michaels story reached a new peak.
2 Roddy Piper: Hulk Hogan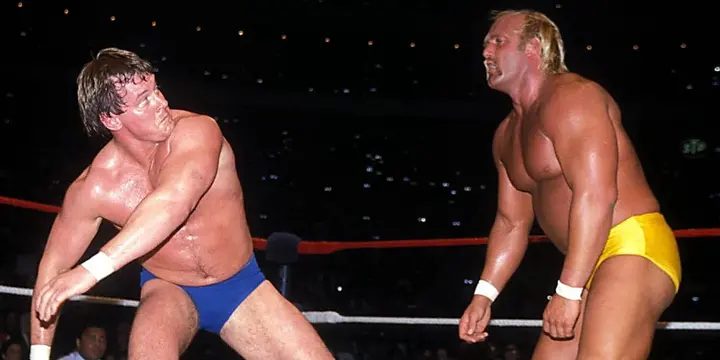 Many fans and pundits view Roddy Piper as the first truly great main event heel that helped draw money in the role. Piper knew how to push the audience's buttons and just perfected the villain act at a time before anyone had done it as well as him.
WWE banked on Piper to be the first top heel of the Golden Era as Hulk Hogan's main rivalry. Piper and Hogan became bitter enemies throughout their entire careers. No conversation about Piper's career will go deep before some mention of Hogan given the importance of their feud.
1 Edge: John Cena
WWE originally wanted to make Edge a top babyface since Vince McMahon loved his potential. Unfortunately, injuries and sloppy creative led to fans turning against him at SummerSlam 2004 before to warrant a heel turn. Edge's career took off with him embracing the villain role to become an all-time great heel.
John Cena and Edge ended up becoming the best rival of the other's career when Edge won the WWE Championship for the first time. WWE witnessed both Edge and Cena reaching new heights as the top heel and face during their iconic rivalry.